20 years of luxury clothing manufacturer in China
ApparelCN focus on production for the high-end clothing market for the luxury fashion brands worldwide. We produce bespoke apparel includes dresses, coats, jackets, trousers, shirts, activewear, sportswear etc. Our custom apparel factory provides one-stop service for luxury fashion manufacturing from design, development, sampling, bulk production and global shipping etc. Professional supply China service.
One-stop service create your luxury clothing brands
Manufacturing for luxury brands
Our factory worked for many international high-end luxury fashion brands, they are from Europe, Italy, France, USA, UK etc. Most of the luxury brands' produce their goods in local factory, such as Gucci, Prada, Roberto Cavalli, Salvatore Ferragamo, Valentino, Versace, Chanel etc. There are some times they make small quantity orders outside, the quantity from hundreds of pieces to thousands of pieces, mostly our factory produced these pieces.
Some luxury brands they have no their own production facilities, have to produce their clothes with the factory have ability to manufacture luxury garments.
Professional team more than 20 years experiences manufacture high-quality clothes for worldwide brands. Our service can start from the brand concept, designers service, bulk production and international shipping.
Competitive prices, high-quality standard, fast delivery, and very good service make our factory as the best reliable manufacturer for many established apparel brands. Our factory daily production capacity 15k-20k pieces meet most established apparel brands bulk order requirements.
Our apparel factory develops of luxury clothing styles of blank, all our customers can purchase our readymade in-stock wholesale garments, and customize with their own brand labels, hang tags, packing materials etc. If you have no your own private label brand, you also can use our factory labels. If you want to manufacture your own customized apparel designs, that's also okay for us.
We work for many sustainable luxury apparel brands, we use the organic cotton and GRS materials recycle polyester, the production both materials and garments are eco-friendly and ethical working conditions at the factory, there are vegetable dyes, natural printing and natural packing materials etc. The pollution emission was kept as low as possible during the whole production.
How to cooperate with us for your luxury clothing brands?
Just contact us directly, send out your inquiry, the designs, original samples, draft sketches, Idea descriptions, and whatever you have and whatever of your requirements.
A professional salesman from our team will reply you with details within 2 hours, and have further communication with you for your requirements.
1.Send us your requirements
Please just send us your requirements, can be the tech packs, design sketches, garment pictures, etc. whatever you have, just explain to us what you want to us make for you. 
2. Our team contact you for further communication
One salesman will contact with you for further communication about more details your business plan, the brand garment production costs, the order quantity, quality, fabric materials, accessories, packing and shipping etc.
3.Factory produces the luxury apparel
After communication finalized the details of order quantity, colors, sizes etc. The luxury clothing manufacturer will start designing, paper pattern, fabric preparation, cutting, sewing, packing and shipping.
4. Receiving the luxury clothing
Luxury clothing manufacturers in Italy, France
The top luxury clothing brand has their own production facility in Italy and France, there are many luxury fashion factories in Italy, France and Europe manufacture high quality standard fashion products, but these factories prices very high than the luxury clothing manufacturers in China. However, they are not speaking English and most of them can't work for international customers, they are not familiar with cooperation process.
It's not easy to find them, because they are not many factories, only few of them attend a trade fair, most of them have no special department for marketing.
-Most of Italy factories do not have their own company websites, some of them have but not in English, most of them prefer to focus on their old customers with long time cooperation.
-The English communication is a problem with them, and their apparel designers and sales people can't speak English.
-The development of fabrics and accessories is important for new luxury clothing brands, the fabric and accessories manufacturers in Italy and France not as many as China, there are thousands of factories for materials, and many very big international markets in China.
Our factory apparel categories
Dresses
Tops & Tees
Jackets
Shirts
Pants
Leggings
Jumpsuits
Activewear
Sweatshirts
Hoodies
Pajamas
Loungewear
Buyer's drafting initial design ideas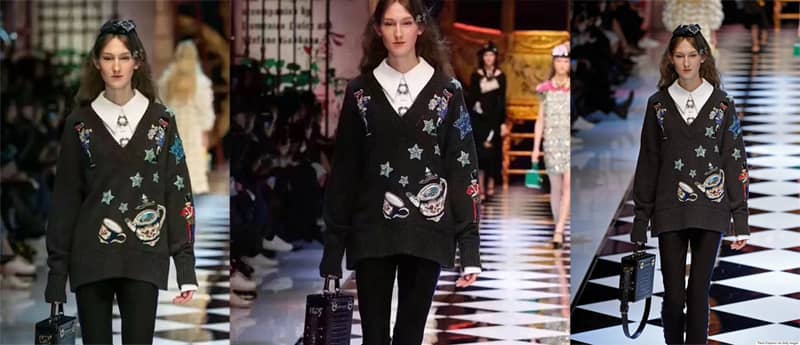 Buyer's bulk production products
Our services for luxury clothing manufacture
Fashion business plan consulting
New apparel brand planning
Garment design service
Clothing Development
Clothing Production
Fabric quality selection
Textile Sourcing
Accessories sourcing
Workmanship technical support
Markers
Grading
Patterns
Sample & Duplicates
Salesman Samples
Bulk garment production
Garment printing/Dying/embroidery
Dye House Services
Sublimation
Fabric Finishing Services
Embroidery
Screen-Printing
Embossing
Customized Packaging
Global Shipping
Where are luxury brands made their clothing?
France and Italy are another classical home of luxury brands and center of high-quality manufacturing. Huge names like Chanel, Hermès, Louis Vuitton, Dior, Saint Laurent, Balmain, and Balenciaga call Paris home and also produce some percentage of their products domestically in France.
Armani's super-luxury range, sold under the Giorgio Armani label, is also exclusively manufactured in Italy.
Production has been moved to China in order to reduce prices. Okay, that might be true for some less luxurious brands, but Chanel is known for being a fashion house that respects its historical heritage.