Mulberry silk t-shirt manufacturer quick details
Heavy silk stretches satin shirt from direct silk clothing manufacturer
Mulberry silk crepe satin plain dye solid color fabric
Content 95% mulberry silk 5% spandex
Office white-collar workers, casual wear, comfortable and breathable
Age Group: Adults
Gender: Women
Clothing Length: Regular
Pattern Type: Solid
Collar: square-cut collar
Sleeve Length(cm): Full
Supply Type: wholesale readymade, Customize/OEM service
Material: Mulberry silk 95% spandex 5%
Fabric Type: Mulberry silk crepe satin
Sleeve Style: Regular with button
Top Type: Shirt / Blouse
Technics: FABRIC DYED
Feature: Anti-pilling, Anti-Shrink, Breathable, Sustainable, Plus Size, QUICK DRY
Season: Summer, Spring, Autumn
Place of Origin: Zhejiang, China
Brand Name: Apparelcn
Model Number: OSS-1706-99
Style: Formal
Product Type: Shirt, Blouses & Tops
Product Name: Women's silk shirt 2021 spring and autumn mulberry silk crepe satin long-sleeved shirts, Women Casual Blouse Designs
Wholesale size: S,M,L,XL,XXL
In stock Available color: White, black, peacock blue, wine red, dark green, navy blue, caramel, fuchsia, wisteria
Applicable age: 25-35 years old
Contact the mulberry silk shirt manufacturer! +
Mulberry silk shirt factory's design concept
We have been pursuing original clothing design, using design to find ourselves, not sticking to conventions, not following the trend, insisting on independent personality, and a relaxed and happy attitude. Design inspiration comes from life.
From fabric to cutting, from plate making to shipment, I slowly incorporate some of my own ideas, instead of looking for a surprise, I yearn for a comfortable fit that has been seen for a long time.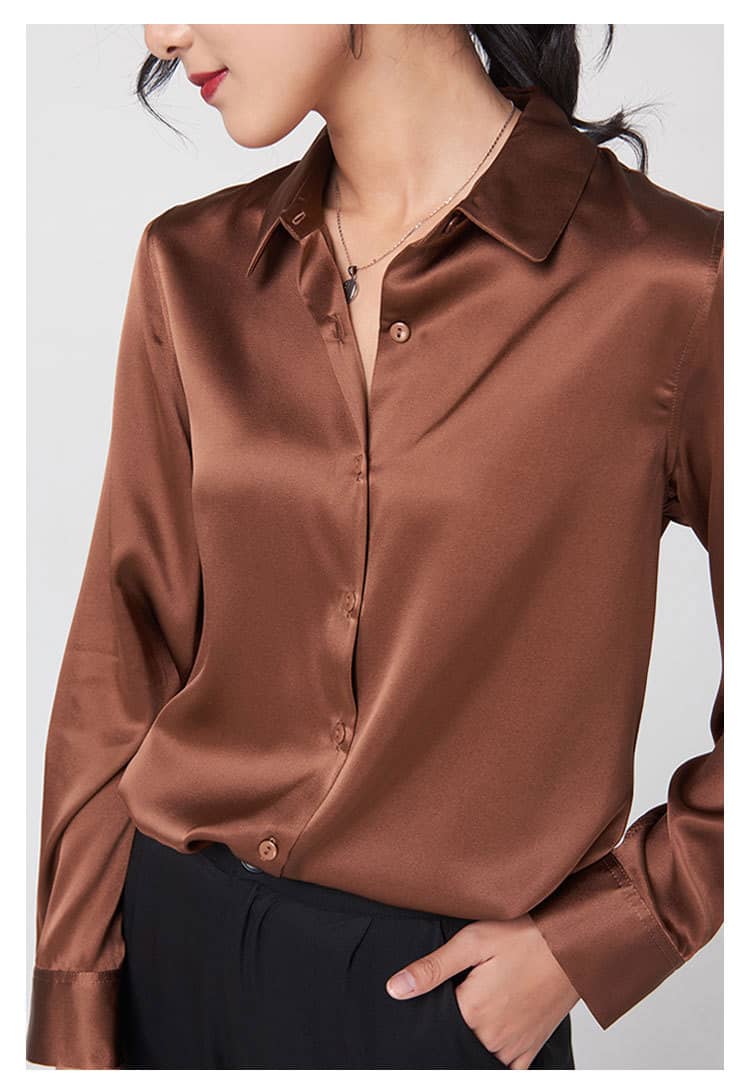 Mulberry silk shirt wholesale readymade size information
| | | | | | |
| --- | --- | --- | --- | --- | --- |
| Size | Chest | Hem | Sleeve Length | Front length | Shoulder Width |
| S | 90 | 88 | 56 | 63 | 36 |
| M | 94 | 92 | 57 | 64 | 37 |
| L | 98 | 96 | 58 | 65 | 38 |
| XL | 102 | 100 | 59 | 66 | 39 |
| XXL | 106 | 104 | 60 | 67 | 40 |
**All size measurement specs in CM(centimeter).
Wholesale mulberry silk shirt available colors
Get wholesale prices from mulberry silk shirt manufacturer! +
Experience fitted size chart for different people's height and weight for wholesale readymade silk shirts.
**This experience data is for reference only based on the experience of most buyer's feedback.
**As everyone has different dressing habits, this is chart can make the size fit well, if you have special fitting dressing habits, the measurement size specs chart is exact for you.
Mulberry silk apparel manufacturer factory advantages
Silk clothing factory history and location
Apparelcn high-end mulberry silk clothing manufacturer factory founded in 1999, it was located in Huzhou, the city famous for mulberry silk hundreds of years. The factory handles the full chain of the mulberry silk industry from the rearing of the silkworm, silk spinning, fabric knitting/weaving, silk garment design, and sewing production, etc. the whole chain.
Silk products our factory manufactured
We specialized in all kinds of women's silk shirts, blouses, silk dresses, silk camisoles, silk cashmere
scarves, silk down jackets, silk fabric, and a series of women's wear. We are mainly engaged in the
domestic market. We have been a long business relationship with many clothing manufactures and suppliers of famous fashion brands.
Professional mulberry silk manufacturing ability
Our clothing factory in the famous mulberry silk city Huzhou China, we know where and what is the best quality silk materials, the experienced in the whole process from silk fabric and silk garment production, there are a lot of important details during the production only the professional mulberry silk manufacturer factory know. We also have an excellent team of designers familiar with silk materials fashion design, offer both OEM and ODM services, we also provide quick delivery of goods, it saves cost, time, energy, and effort for customers.
Factory vision and strategy
We are always willing to improve and update ourselves then we can stand stable in the markets. you can also customize any style and color you want.
We also sincerely invite you to visit our factory and discuss our long-term business and
become your reliable clothing supplying partner.
Inquiry for custom mulberry silk shirt manufacture order! +
Questions for a mulberry silk shirt manufacturer
Q: Is it the source factory?
A: Ten years of silk clothing manufacturers, from grey cloth to fabric and then to the silk garment, are all finished by the direct silk manufacturers. We have our own factory, have a variety of manufacturing machines, and specialize in garment production and foreign trade and export for more than 10 years.
Q: Is your factory do OEM/ODM/custom design mulberry silk orders?
A: Yes, we are a custom apparel factory and high-end clothing manufacturer, we can do OEM/ODM/Custom mulberry silk shirts and most apparel designs bulk order mass production. We can make samples as your draft design or original samples. We can customize any size and color.  
Q: Do you support drop shipping (take the goods and send one piece to the customer directly from the factory)?
A: Our factory store supports all kinds of ways to get the goods. And support drop shipping.
Q: Are there any large goods on the shelves? Will it be out of stock?
A: We have bulk goods for all the clothes on shelves. Some colors and sizes out of stock will be replenished in 2-3 days. We can rest assured to sell.
Q: Is it pure silk? Are the contents of the care label annotations real?
A: All silk garments are pure mulberry silk, and the ingredients marked on the care label are all solid. There are test reports on the ingredients of the fabrics, which fully meet international standards. If you need a test report, please contact customer service.
Q: Can I get pre-production or TOP (top-level samples)?
A: Yes, we will send you PP samples for reference, and start production after you confirm. If you need, we can send the top sample to you. We have a complete sample submit process during the whole garment manufacture process.
Q: Will there be any brand, tag, or anything like that?
A: Wholesale silk shirts, by default, no tag or brand name is put on the goods. There is only one ingredient washing label on the clothes.
If you need us to hang tags, order please leave a note.
Generation of large volume can help to hang the corresponding tag.
Custom/OEM design mulberry silk orders, we can put all your own labels, private labels, and other garment accessories as per your requirements. we are very happy to be your long-term OEM clothing manufacturer in China.  
Contact the mulberry silk shirt manufacturer! +
Orders placed before 5 o 'clock on the same day will be shipped on the same day.
Mulberry silk shirt selling agent notice:
Taobao retail price is no less than 588 RMB or 100USD. Strictly control prices.

Unauthorized agents who have applied for protection of the pictures are not allowed to use pictures. Amazon, eBay, and Shopify agents need to consult customer service before they are put on the shelves, otherwise, the system will not handle automatic complaints.

For all returns and exchanges caused by quality, size exchange, and other issues, please apply for a refund according to the return process.

We accept unconditional returns, but please make sure to sign the goods within 7 days after receiving the goods, and do not affect the sales of new products in the second transaction. In order to ensure that they are absolutely not worn, there is no perfume, peculiar smell, sweat, and no washing in water, etc. Return and exchange without affecting the second sale, so as to avoid unnecessary misunderstanding!

Pay attention to the waybill number is entered according to the process for the return express. The return address is the address provided in the order. If you do not fill in the tracking number, it will be rejected!

Any unfinished matters, please contact the customer to negotiate and resolve.
Thank you for your cooperation!
More pictures of  women's mulberry silk shirts