T-shirts are garments with massive demand in the global clothing industry. For t- shirt manufacturers the industry has grown into a versatile pool of opportunities and has evolved into a two-billion-dollar market.
T-shirts are available for all age groups and genders. It can fit anyone and comes in huge varieties, prints and designs. By targeting a huge customer group, t- shirts' production is a very profitable business.
In this article, t- shirt manufacturing process and some t- shirt manufacturers in various regions around the world are mentioned. This article is all about to give you a clear glimpse of t- shirt manufacturing industry and how you can be a part of it if you are interested to carry on your business in this niche.
Let's start!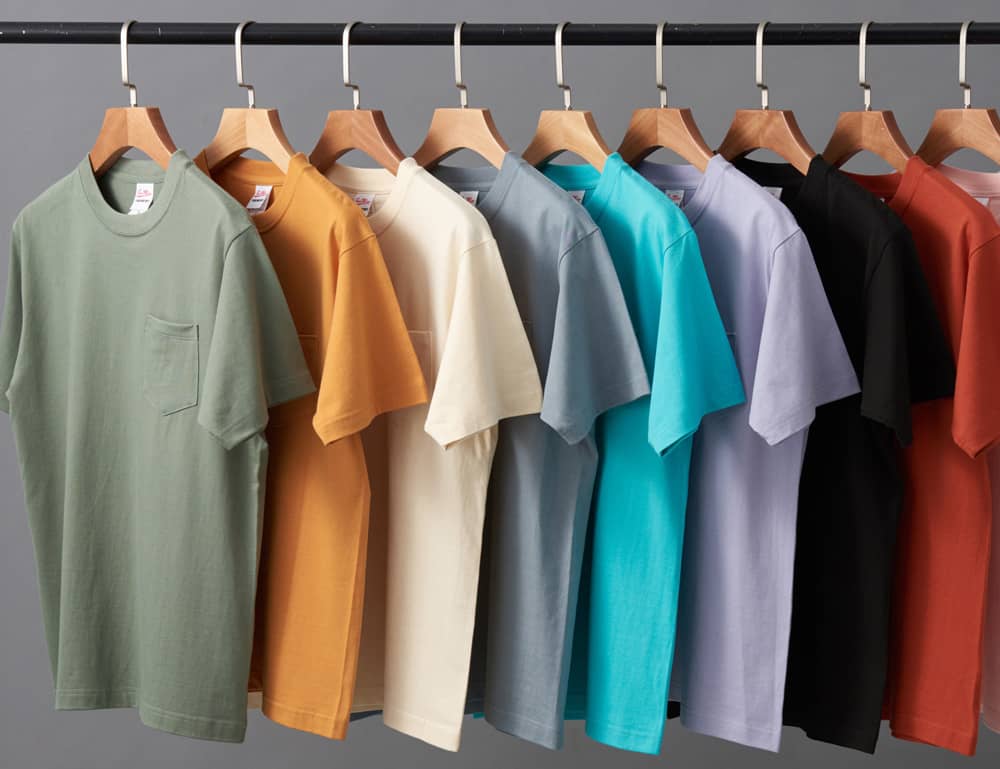 Guangzhou Letusi Fashion is a certified cloth manufacturing company. From garment processing factory it has upgraded into a modern advertising company that integrates the design, production and sales.
Letusi offers 24 hours customer services and free customize design options with the lowest minimum order production.
T-shirt Manufacturing is a unique company that specializes in custom t- shirt production. They offer a wide range of customer services from initial design, layout till the final commercial production to enter the product in the market at competitive rates. Check on the site for further details.
ApparelCN is a leading global custom t-shirt manufacturer and wholesaler from China. They have global reach servicing customers in more than 200 countries.
They provide a one-stop custom clothing manufacture service from products design, development, materials, sourcing, bulk production, global shipping, everything. Only what you need to do is to promote your store.
ApparelCN auto integrate with all mainstream platforms such as Amazon, eBay, Shopify, Lazada, Shopee, Wish, Aliexpress, Cdiscount, Jumia, Priceminister, ect.
Work with professional e-commerce support clothing manufacturers, you can buy what you need at competitive price with low MOQ. And they have discount point policy and which can be offset as payment.
The most important is that we know your business, and know how to service you, we have full knowledge of supply chain than the new startup customers.
Having around 100 different fabric suppliers, we make sure all the customized design t-shirt buyers can get their prefer fabric qualities. The garment samples within 2 days, the bulk production can be 3-10days for the order quantity less than 1000 pieces.
ApparelCN experienced team guarantees fully successful end-to-end custom clothing manufacture supply Chain for your business.
Features Overview:
Source from 100+ verified exclusive fabric suppliers

5 million pieces yearly production capacity

Low minimum order quantity requirement

Cheap competitive price for same quality products

Extremely strict on quality inspection by the professional QC team

Heavy discount and accept various payment

Global shipping with fast delivery

Free business consulting and e-commerce supports

High-quality products

Seamless integration with 20+ platforms

24/7 customer service
With our professional supports, you only need few easy steps to do your own fashion business:
Plan your fashion business → Import products from US → Make sales on your store → Place an orders from US → we ship the products to you.
Buddy Clothing is expertise in the manufacturing of high-quality knitting wear. They offer on time delivery, honest price quotes and reasonabale rates. All types and designs of t- shirts like V-neck, Round- neck, cow- neck, strip t- shirts and blank t- shirts can be manufactured on orders.
With a whole group of professional and dedicated professionals, Hongfun Clothing is a great company to contact for t- shirt manufacturing and printing.. Various designs and styles are produced in the following categories:
Promotional t- shirts

Election t- shirts

Polo shirts

Fleece hoodies

Knitting pants
• Sports shirts
Best Custom T- Shirt Manufacturers in the USA
AMBRO Manufacturing is a family owned professional company. They specialize in American based garment manufacturing and decorating. They offer professional contract screen printing and embroidery.
You can order any style and design of t-shirts and they will provide you the ready stock within minimum required time period.
2. American T- Shirt Company
American T- shirt company is a family owned manufacturing and wholesale distributing company of tshirts. They are the most popular suppliers in Huwaaii and are based in America. The minimum order you can place is 12 pieces of any design and style. They do not accept any returned items if they are washed or decorated. By providing high quality and great designs, this company is a must visit for those who are seeking t- shirt manufacturers in America.​
CROV has 20 + years of experience and is a certified company. You can freely trust on their quality standards as they only produce standardized items. It is a one stop manufacturing and wholesale company. They compete with big retailers, offer cheap rates and help you out to save money in your business by minimizing the risks.
Through technical and creative processes, USA Tees has earned its position in the market of garments.
They manufacture traditional as well as modern and stylish screen printing and embroidery designs. Tshirt manufacturing is their specialty and they also offer graphic designers and staff to help the newbies in the clothing business.
Golden Goods a USA based company is thriving with success in the national and international markets of garments. They produce garments of custom designs and work with their customers and buyers to produce items of their choice. You can place orders of any style, design and can chose the fabric of
your won choice as well. Various top class brands like Android Jones, Facebook and TEDx place their orders at this site.
Best Custom T- Shirt Manufacturers in Vietnam
1. Un Available Sewing Factory
UN Available Sewing Factory is a not any ordinary company, like all other manufacturers in Vietnam.
Rather, this company has thrived through the hardships of cultural differences and emerged as one of the top knit and woven streetwear apparel manufacturing company. They offer photo screen printing, silicon screen printing and silicone printing over high quality fabric. Make a free visit to this
extraordinaire site for further service details.
Phu Anh Garments Ltd. Is garment producer and exporter company in Vietnam. They produce jackets, t- shirts and PPE clothing. Per year Phu Anh produces 3.6 million units. Many top brands and companies are their partners like YEZAC, 5.11 +, jcpenney, Acadmey sports+ outdoors, etc. which shows their great quality work and services.
3. Sao Viet Screen Printers
Sao Viet Screen Printers had previously worked in Australia and then shifted to Vietnam. With 20 years of experience this company is not only a manufacturer but also exporter and wholesaler of garments.
They provide good customer services, English and Vietnamese speaking staff, reliability and has a good reputation in the international market.
Bamboo company is a Vietnam based with French owners that produces environmentally friendly and stylish garments and accessories. They are manufacturers, retailers and distributors in the clothing market. They use digital printing that lasts for years on t- shirts. T- shirts are available for men, women
and children in all varieties, designs and colors. As they are manufacturers, you can place orders of customized designs as well.
Ginkgo is a B2B platform that has manufacturers and franchising company under one roof. Their products are manufactured by French and Vietnamese designers. Unique and good quality fabric, great customer services and special membership discounts are some perks of this company. Their rates are not very low but the designs are quite attractive.
Best Custom T- Shirt Manufacturers to Wholesale in the UK
UK T-shirt Printing is an experienced and artistic company which gives the opportunity to design 1- 50 t- shirts online and prints 50+ items within 30 seconds. They specialize in digital and screen printing and prints on buyer's demands. 5000 to 200,000 garments can be manufactured by them on demand.
UKTS is an award winning company which makes it the best among all its competitors. You can also order and purchase a sample shirt and payment procedure is secured by 256- bit encrypted connection which means your card numbers are safe and not stored on the website.
Vektor is a key supplier of one of the top-rated brands in the UK. They not only provide high quality, but through innovative approach they also guide its clients through about the new market trends and business opportunities. Moreover, Vektor also provides a chart of printing and fabric combo which helps its buyers to let know which kind of printing will be best for their t- shirts. By providing a huge variety of shirts and printing options, Vektor is among the best and trustworthy companies.
DSA Manufacturing helps its buyers to keep their profit as high as possible by providing 5 star service and delivering high standard items. With technical and highly professional designers, DSA can finish its production order within 30 days. The minimum order you can place for production is about 100 items
and after production they will deliver the order within 5 days of the time period.​
Hawthorn is one of the UK's leading clothing manufacturer that produce high quality fabric for medium to small fashion outlets and has the lowest minimum order production capacity as compared to any other production house. They have global supply chain and fully customizable clothing services. For further exploring the specialties of Hawthorn, click the above mentioned link and give a free visit.​
Paul James Knitwear emphasizes on every step of cloth manufacturing carefully to get 100% unique designs, proper sampling and high quality production of British made fibre garments. They offer they following services
Pattern and spec production

Sampling

Quality control

Bespoke fabric production

T- shirts for men, women and children along with vests and long sleeve tops
• Wholesale of items and stock storage options
Best custom T- Shirt Manufacturers to Wholesale in India
Glory House.inc has been in business since 2006. Their main focus is on customer satisfaction not on making sales. Through a well established vendor connection and great team, this company ensures the provision of very good quality items at very good rates.
Active Fashion India is based in Delhi. It is a manufacturing and exporting company of garments. Currently they supply their orders to buying houses, a few retail brands, online portals and wholesalers. Professionally driven garments manufacturing company, Active Fashion is top class in its standards and quality.
They offer the production of following types of t- shirts:
Cotton T shirts

Polyester T shirts

Lycra T shirts

Dry fit T shirts

Corporate T shirts

Round Neck T shirts
Raja Sari Exporters is a reputed and registered factory that is famous for manufacturing, exporting and supplying of apparels of various types since 1999. They offer all types of fabric and customized t- shirt manufacturing options like for schools, universities, polo shirts, for special events and promotions etc.
Yesties is a customize printing company that offers printing of fabric, paper, digital and on materials. They have all types, styles and kinds of t- shirts in almost all colors. They manufacture their stock themselves and print the shirts according to the orders placed by various buyers.
Some of the t-shirt types available at Yesties are:
Round Neck

V Neck

Collar T-shirts

Sweat Shirts

Sports Wear
Vogue Sourcing is a manufacturer and exporter of customized clothing. Over the years Vogue Soucring has provided healthy customer services and ensures the 100% satisfaction over its products. They take 10 sampling lead-time in days, 60 production days, but produces high quality and great stuff. For further details make a free visit to the site.
Pro Tips to Custom Manufacture Great Design T- Shirts
The very first step in t-shirt manufacturing is the fabric selection. Almost 90% of t- shirts are made of 100% cotton, polyester or cotton/ polyester blend. T-shirt making is a simple and highly automated process. Various machines are installed to carry out the cutting, assembling and stitching procedures.
Specifically designed seams are used for t-shirt manufacturing. Depending upon the style and design of t-shirt one wants to produce, the basic steps involved in the procedure are as follows:
T-shirt styles are finalized and inserted into the machines. Machines are adjusted according to sizes and styles.
The T-shirt fabric is cut according to pattern dimensions. Fabric then consists of a tubed body, separate back and front pieces, pockets, sleeves and trim.
Assembling of front and back pieces is done and are then stitched together. Joining is carried out at the seam lines to form a superimposed seam and super care is required to avoid cutting the yarn of the fabric.
Then sleeves are assembled. Hems are finished before fitting into the garment. Then, an automated film moves the sleeves to the sewing head and edge is finished by folding it over or by applying a band.
For tubular shaped t-shirts, sleeves are first sewn together and then set into the garment. But, if the shirt is cut and sewn, then the unseamed sleeve is fitted into the garment and at the final stage, the whole shirt seams along with sleeve seams are sewn in one action.
Garment hem is sewn with overedge stitch to provide more flexibility in the shirt and to prevent tearing of the fabric while wearing.
Pockets can be added in casual shirts. High quality shirts insert an interlining into the pockets. Pockets can be attached to the garments via automated setters and then the operator has to arrange the fabric only. After arrangement, the mechanical setter fits the pocket position and stitches the seam.
Step 6: Shoulder Seams' Stitching
Shoulder seams may reinforce with tape or elastic depending upon the quality and style. Shoulder is completed before or after the attachment of neckband, all according to the design required.
Step 7: Attaching the Neckband
Neck edge is carefully cut and is slightly shorter in circumference than the outer edge. Outer edge is attached to the garment and neckband is stretched enough to prevent the bulging.
Some neckbands are manually applied. Most of them are folded, opposite sides are stitched together and aligned with the shirt's neckline. Seam is then covered by an overedge stitch.
Superimposed seam of the neckline is then covered with tape to make it more comfortable, stretchable and stronger. Simple seams of neckline is covered with stitches.
Labels are attached to the back of the neckline. These labels provide information about the company, manufacturer, size, fabric and washing instructions.
Inspection is carried out for flaws in fabric, thread or stitching.
Pressers are then used to press the garments and are then sent for packaging. Packaging depends upon the quality and distribution channels. Printed bags, clear plastic bags and cardboard cartons are used for packaging in most of the cases.
Where to Find the Best Custom T-Shirt Manufacturers
Trade fairs of the clothing industry
Online B2B marketplaces

Sourcing companies, agents or buying offices

Linkedin, Facebook Group
● Search on Google
T- shirt manufacturing is a simple and easy process, but is like an art and not everyone is an artist that can properly handle this process. There are various companies in various regions of the world that specializes in this niche and are ranked high for t- shirt production.
Up above, I have mentioned some of those companies that are not only reliable, but are also well known for their great and friendly customer services. So, go ahead and check out which one of them is a best match for your business.