Clothing production process sheet is an important technical document in the production of clothing. It stipulates the technological requirements and technical indicators of a specific style of clothing. It is the basis of garment production and product inspection.
The Technical Package is a document with a large amount of information, including all the instructions and requirements in the manufacturing process of the garment. At its simplest, a tech-pack is a blueprint for a garment design that is used by a manufacturer to produce a garment product using the information sheet. Often, fashion designers create their own worksheets in consultation with factories, pattern makers, or technical producers. Of course, the process sheet can also be outsourced to a specialized third-party designer organization.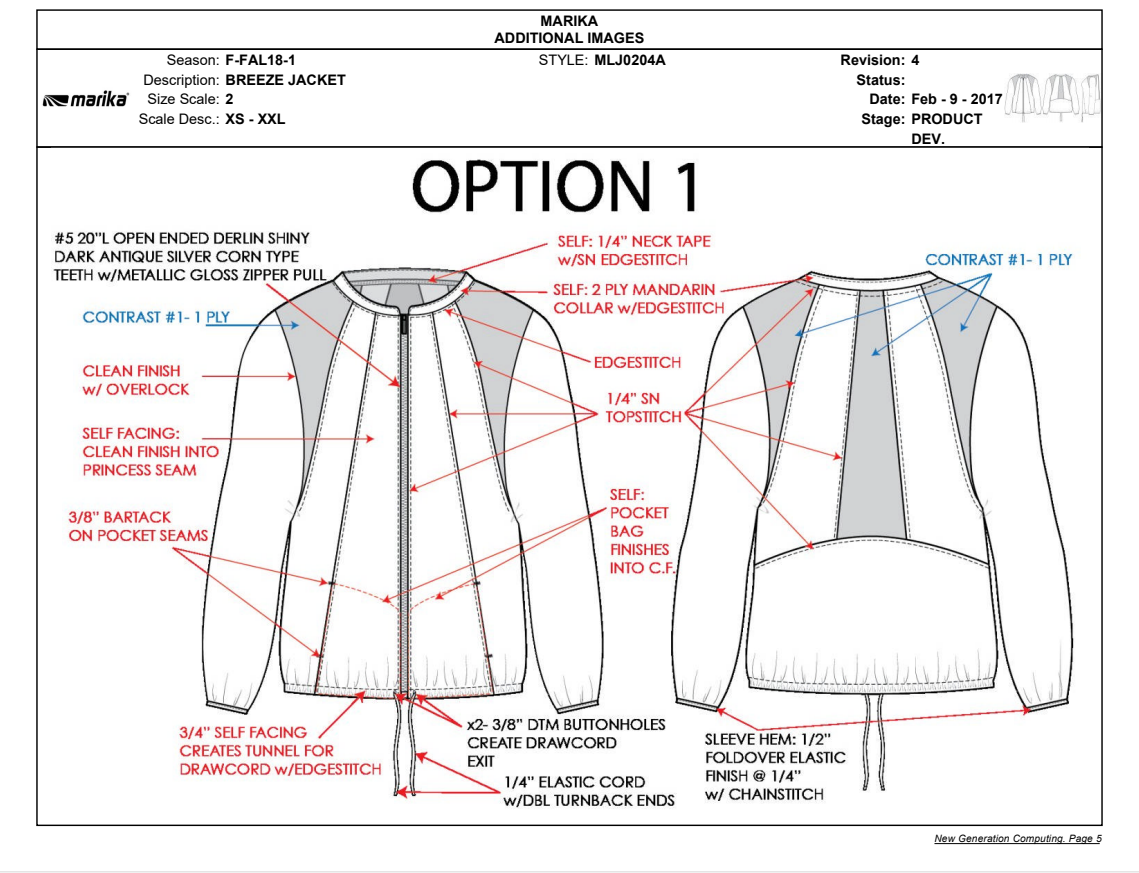 The usage of garment tech pack? Who will use the apparel tech pack?
Buyer create their own garment fix the design, quality, workmanship, packing etc.
Buyer send the tech pack to garment factory for costing, pricing.
Factory follow them for material sourcing and production.
All the people of merchanting and factory production team follow the garment production team.
32 different kinds of elements included in a garment tech pack.
There are some elements you have to include in the tech pack, but not all are necessary points must include in the tech pack.
Main elements and necessary elements included the styles number, measurement of size specs, colorway, bill of materials, design sketch etc.
1.The buyer's name or company name.
2.The name of your clothing brand.
3.The designer's name.
4.The merchandiser's name.
5.The factory name, or vendor name, or supplier name.
6.The short description of the garment.
7.The garment used for which season development or production.
8.When this garment tech pack was created, and how many times revised, and revised by which designer.
9.The technical description of the main fabric quality name, contrast fabric name, 2nd contract fabric quality name.
10.The style name brief description if you have.
11.The style number.
12.The size ranges.
13.The required sample sizes
14.The required sample colorways
15.Bill of materials used for this garment production.
16.If you have an image for the sample fabric swatch that shows details like artwork, pattern or texture, it's better put them in the tech pack for factory easy understanding.
17.If you have a technical drawing (draft flat sketch), it's better put them in your tech pack.
18.Detail information about the bill of materials items, such as the item name, item description, color, reference number, quantity and supplier name for every item in your clothing tech pack.
19.If you have pictures that show the details of each trim like, buttons, zippers, labels or patches, also put them in clothing tech pack.
20.Put the pictures that show the details of each accessory like hang-tags, poly-bags or carton boxes, show the packing instruction, placement, position of each accessory.
21.Your special requirements such as your technical drawing call out all the special elements of your design like Velcro strips, snaps, secret pockets or water proof seams, etc.
22.The construction diagram list the sewing operation, stitch type, stitch width, stitches per inch, seam orientation and seam allowance.
23.All the exact Pantone color code for every element of your design including fabric, lining, buttons, zippers and thread, etc.
24.The original artwork for any printing that needs to be done on the fabric, trims or accessories.
25.The artwork and the correct wording for your main labels and care labels.
26.The exact materials, dimensions and placements for all your main labels and care labels.
27.The type of card-stock and print quality do you want for your hang-tags.
28.The packing materials and prints, thickness do you want for your poly-bags, the packing materials design/requirements.
29.The folding instructions.
30.The exact measurements for at least one size.
31.The exact graded measurements for the full-size range.
32.The accurate technical drawing that shows how to take measurements from when doing quality control checks.
The tech pack can include these elements, but not limited these points/details, you can include any elements you want related the clothing bulk production process, to make sure garment factory can follow the instruction clearly.
We are the professional garment manufacturer, welcome contact us for clothing production one-stop service! +
How to make garment tech pack?
Make a completed file with all details of specifications for this garment. The most important thing is to have the relevant content required by the production process sheet, including the style diagram, workmanship, surface and accessories quality, color, size table and so on. These contents should be installed in a certain order and reasonably sorted together into a multi-page document about all the details of this style of clothing.
Different types of garment tech pack?
Costing tech pack—Main use for send factory for costing and quotation, this tech pack no need full details, can include the main information for costing is okay.
Sample tech pack—The tech pack can be only with one size of specs for make a fit sample or pre-production sample.
Full size set tech pack—The tech pack with measurement of specs for all sizes.
Revised tech pack—Base on the samples and buyer's new requirements make some revetements for the tech pack make an update in the tech apack.
Final tech pack—After all samples are samples submits and approved, buyer make a tech pack with final details for bulk production.
2 langue tech pack—This tech pack with 2 langue main use for international clothing bulk production, because the buyer and seller in different countries with different langue, the factory workers main know their own langue only, so add the tech pack with factory local langue avoid mistake during the garment bulk production.
File format of clothing tech pack?
The clothing tech pack can be PDF, excel, word, etc. Any file format is okay, but in order to make sure factory can open it easy, it's better use the format factory can easy open.
How to give the tech pack to factory?
If the tech pack is not big, you can send by email, Whatsapp, Skype, etc.
If the tech pack is very big, you can send by www.wetransfer.com, or put them in a CD, or U disk send to factory/supplier/vender, etc.
Download various garment tech pack samples for reference.
Please click below link you can download some tech packs for your reference, to see what is actual tech pack file.
Garment tech pack making service